SAVIOR HEATED GLOVES 
CONTENTS:
2 Heated Glove liner
2 lithium-ion 7.4V 2200mAh rechargeable battteries
1 Dual Charger DC8.4V(The plug type according to your country,or tell us your need)
1 Package Box
1 Instruction manual
Prduct model:S-15 
Gloves type:thick gloves
Heating Temperature: Adjustable from 40°C- 60°C / 105°F - 140°F
suitable environment temperature:-30°C to 0°C
Working time: depend on environment temperature and heating level
​
Please confirm your 

plam width

 before place an order,Use a 

ruler

 measurement.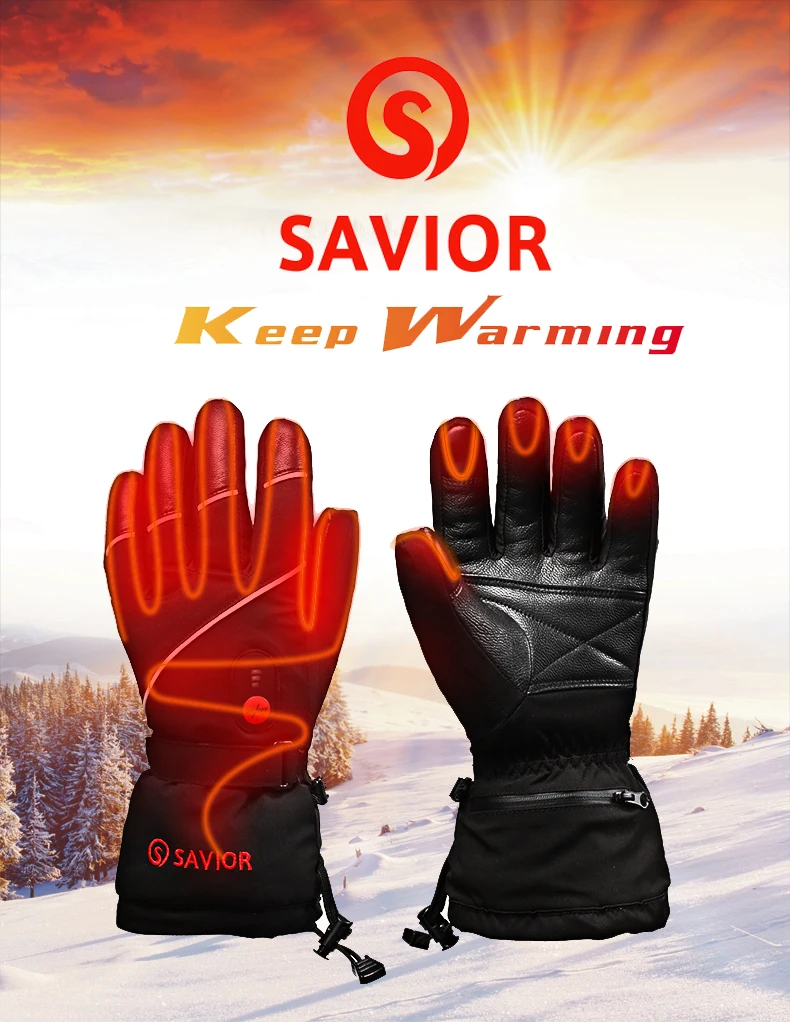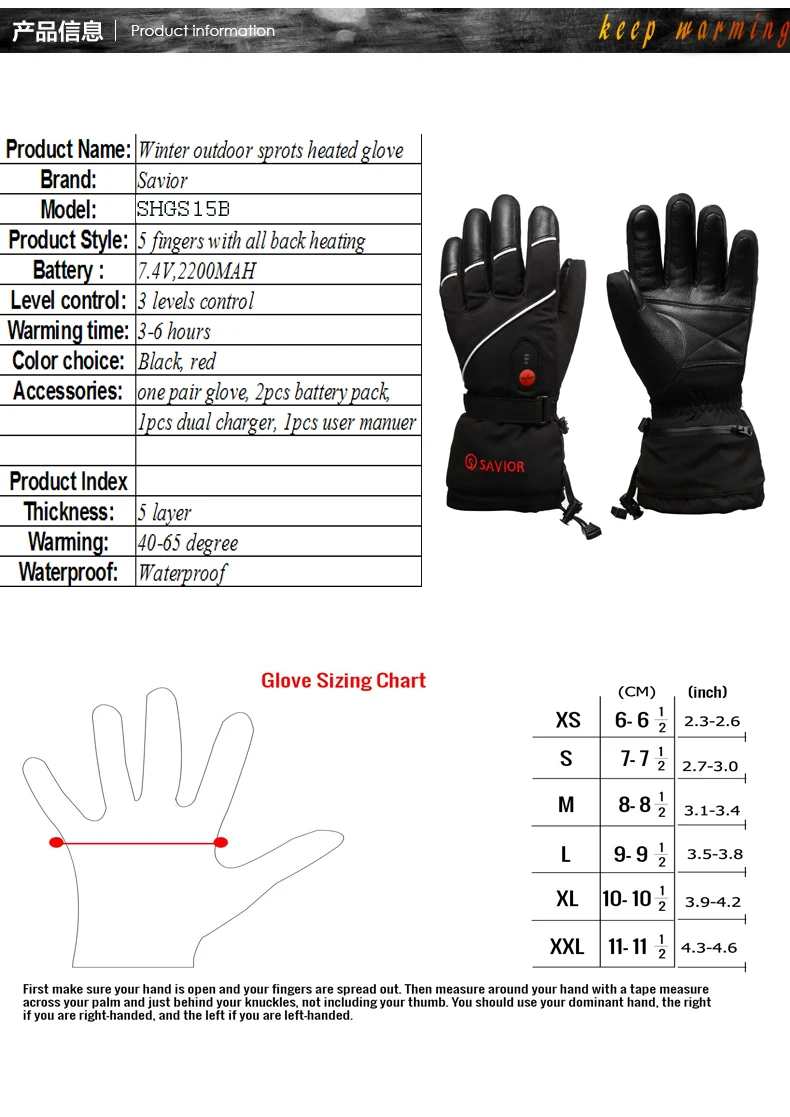 (US, EU, AU, UK PLUGS ON OPTION! )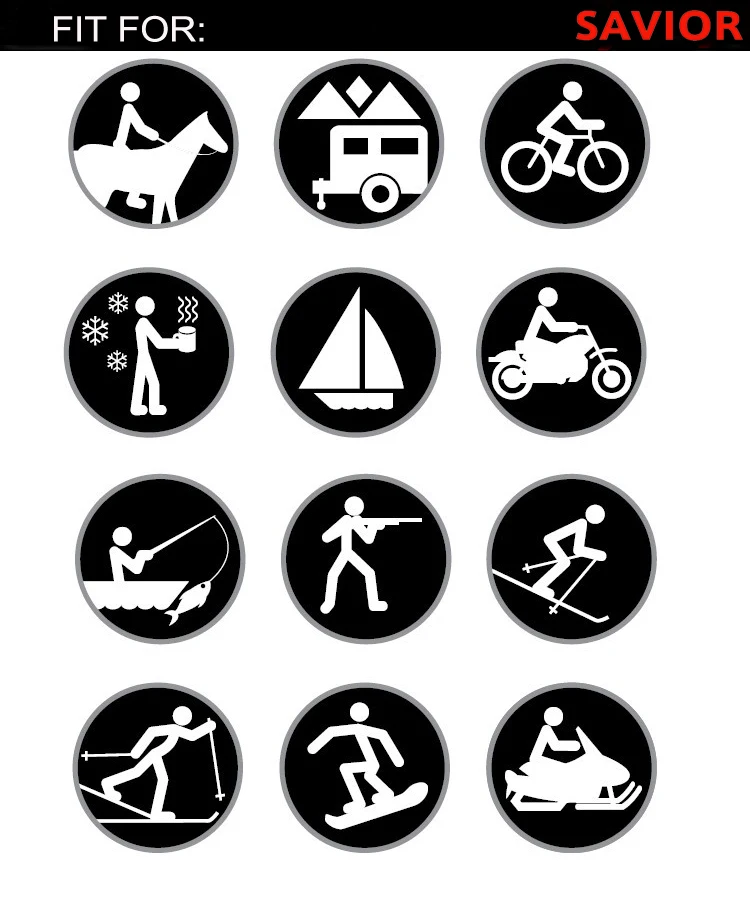 Heated glove user guide
Contents
One pair of Savior gloves
2 lithium-ion 7.4V 2200mAh rechargeable battteries
1 Multiple port charging system
Storage/carrying case
Instruction manual
Getting Started
Always remove the batteries from your gloves when charging
Charge your batteries at room temperature for three hours prior to first use
The LED light on the charger will illuminate RED while charging.
The LED light one the charger will illuminate GREEN when Charging is complete
Carefully connect the power wire inside the glove storage pocket to the battery
Position the battery inside the glove pocket and seal velcro along the top to secure the battery in place.
Heat Settings:
When batteries are installed the glove will automatically heat to the lowest temperature setting(1 light bar will illuminate)
Press ON/OFF button a second time to increase the heat setting to Medium(2 light bars will illuminate)
Press ON/OFF button a third time to increase the heat setting to High(3 light bars will illuminate)
Press ON/OFF button of fourth time to turn glove heat system off(all light bars will shut off)
Heating time chart
HEAT TIME CHART

100% heat

66% heat

33% Heat

2.5 hours

3 hours

4 hours
Wash and Care
Remove batteries from gloves when being cleaned and stored
Do not machine wash
Do not machine dry
Do not bleach
Do not iron
Do not dry clean
Spot clean gloves by hand using only mild detergent
Air dry gloves lying flat
Warning
Glove, batteries and all connections should be inspected prior to use
Unplug the batteries from the charger once the batteries are fully charged
Gloves, batteries and charger are not compatible with any other product
Carefully Connect and disconnect batteries and power cords to aviod internal damage to glove wiring
Gloves and batteries should not be stored in high temperature environments
Do not use when sleeping
Children should be supervised when using this products
Limited Warranty
(batteries,charger& heat components)
Lithium-ion batteries, charger and heated components are covered under warranty for a period of six(6) months from the date of purchase. Batteries need to be charged before storage and at least once every 3 months of sttorage thereafter to prolong the batttery life. Over time, lithium batteries tend to lose their capaity due to the chemical nature of lithium batteries. Erratic charging and heat speed up this degradation. Batteries should nerver be stored in extreme temperature environments.
Limited Warranty
(gloves)
Savior gloves are warranted to be free from defects in materials and workmanship for a period of (1) year from the date of purchase. This warranty is in lieu of all other warranties expressed or implied.  Should a warranty claim arise, return the gloves to your dealer with proof of purchase. The dealer will forward the gloves to the distributor for evaluation by the manufacturer at no additional cost to the purchaser. Damage to the heating system and parts resulting from accident,fire, water damage, misuse, unauthorized service, or negligence will void the warranty.  This warranty covers product replacement or repair only and does not cover items damaged as a result of the failure of this product. This warranty is non-transferable